In the wake of the announcement of Google+, complete with group video chat, it seems that Facebook and Skype were forced to roll out their comeback: Facebook video chat. How does it work? Is it useful? That's what we're here to find out.
Skype in Facebook
Overall, I found using Skype's video chatting in Facebook as being relatively straightforward, using Windows and Google Chrome. I did have to download and install the appropriate software, and starting a conversation with someone who hadn't installed it yet was slow, but once it was up and running, I found the video quality and speed to be satisfyingly good.
To turn on Facebook video chat, if you don't see a video camera icon in your chat windows, go to Facebook's
Video Calling
page. Oddly enough, you can click Get Started, but you aren't prompted to do the video calling setup until you actually try to initiate a call.
Calling is straightforward enough. You can click the video camera icon in the chat window (as long as your friend is online).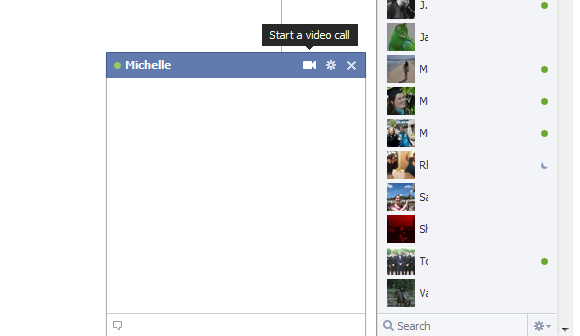 Once you try to start your first call, you will be prompted to do your initial setup. After you click Set Up, a file is downloaded and runs on your computer before you can continue.

Then, if they don't have it setup, you have to wait for your friend to set up video calling, too.

Of course, both of these steps are one-time things, but they make the first call pretty slow.
If you and your recipient both have video calling set up, a popup window appears when you initiate a call as it rings on the other end.

Once you actually see each other, the call is pretty effortless. For me the quality and speed were excellent, as compared to rougher reports from a few days ago. According to a Facebook Q&A, the video is a direct peer-to-peer connection, so you won't have to worry about a server overload.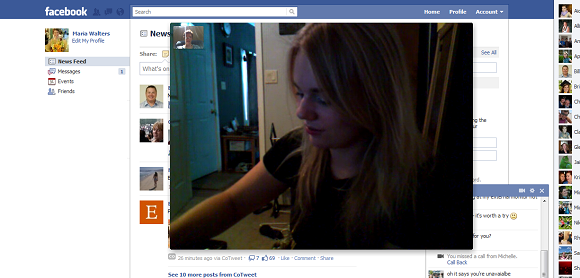 Mousing over your video shows which video camera and microphone are being used, magnifies the video of yourself (at least enough to see if your head is in the picture), and gives you the option to minimize, go full-screen, or end the call. You can also click and drag the video around the screen.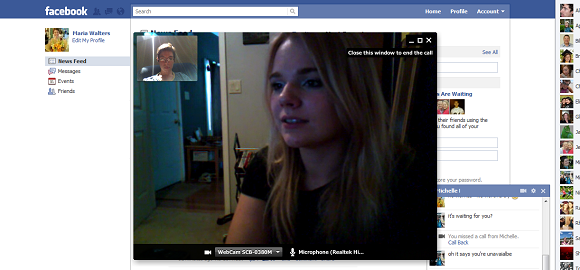 For better or worse, the video takes place in a separate window. It stays in front of any other windows you try to open, unless the video is minimized. This can make multi-tasking, especially with a single monitor, relatively tedious. However, if your main focus is your conversation, it works great to be able to do a few things in the background, or just sit back and talk.
Facebook in Skype
Perhaps the more overlooked part of this partnership has been the ability to interact with your Facebook friends on Skype. You can log into your Facebook profile, see your news feed, and interact with friends, all within the Skype window (though viewing profiles, notes, and links all send you back to a new tab in your browser).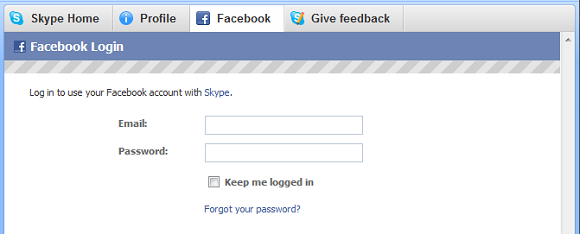 Once you are logged in, Facebook updates appear in one, two, or three narrow columns in the Facebook tab of Skype, depending on the width of the window.

You have the option to alternate between viewing all your updates and your "Skype Contacts" updates – though the name of this feature confuses me, because the one friend who did appear to be labeled as a "Skype Contact" was not actually in my Skype Contact list.
Once you found a contact with a connected Skype username, their name turns into a Call button when you hover over it. The drop-down menu even allows you to choose to call a cell or home phone number from their Facebook profile instead of their Skype username.

From there, the call is just like a usual Skype call.
Having the call button appear over a name is very useful – as long as Skype can access the phone numbers or Skype usernames on all your friends' profiles. So far, this doesn't seem to be the case. At this point, Skype can't even establish a connection between your Facebook friends and the existing Skype Contact list.
Future improvements
All along the pipeline, there are a number of areas where Facebook video chat could expand, both on the Skype and Facebook sides.
First off, you can't use Facebook Chat at all while using Facebook as a Business Page. Though I'm not convinced that chatting or video chatting makes sense for business-consumer relationships (more on that later), I'm curious to see if and when that capability will be introduced.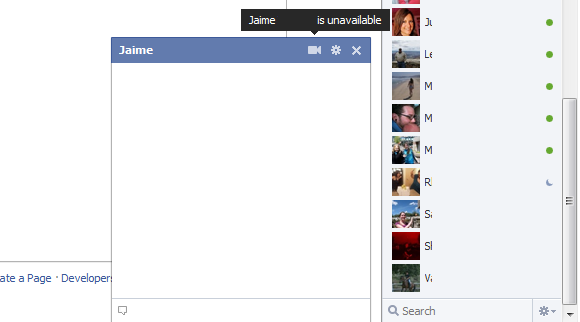 Though other reviewers were able to leave video messages when their contacts didn't answer, that didn't happen for me. I am also curious why that "answering machine" capability only exists when people are online – though you can initiate regular text chat with someone who is offline, you can't leave a video message.
Also, I have historically had my chat sounds turned off, but that meant that I missed a video call, too. It would be great to have the chat and video alert sounds controlled by separate selections, so that I could still get notified of a call without hearing the persistent chat noise.
On the Skype side, I still don't see the Skype Facebook interface communicating well with Facebook. Maybe this will change as more of my friends begin installing and using Facebook Video Chat, but only one of my friends was detected as a Facebook "Skype Contact," even though I had a number of other friends who are both Facebook friends and Skype contacts, and some of them even listed their Skype contact information in their profile. The Skype Facebook interface was also pretty simplified, and I would have a hard time using it as my only channel to Facebook.
My assessment
Right now, Facebook video chat is a neat thing for individuals to have, especially those who are a long way from their loved ones, and the video quality seems to be improving already. However, I find it hard to believe that video chat will be used by casual acquaintances, and doubtful of its value for businesses reaching out to customers. I am especially skeptical since video chat isn't even available for users representing business pages. At this point, users would have to accept a friend request from a person representing a business, and then be willing to be interrupted by an unsolicited video call – a far stretch, in my book.
On the other hand, within a business this could be a great asset. Having free video-chatting capabilities, assuming your office allows Facebook use, could allow long-distance partnerships to take place more effectively. When group video chatting is introduced, it will allow even larger teams to connect face-to-face from a distance.
Do you agree, or can you see other ways that businesses could use Facebook video calling in their outreach? Is it working for you?